Unique Home Decor Ideas For Australian Houses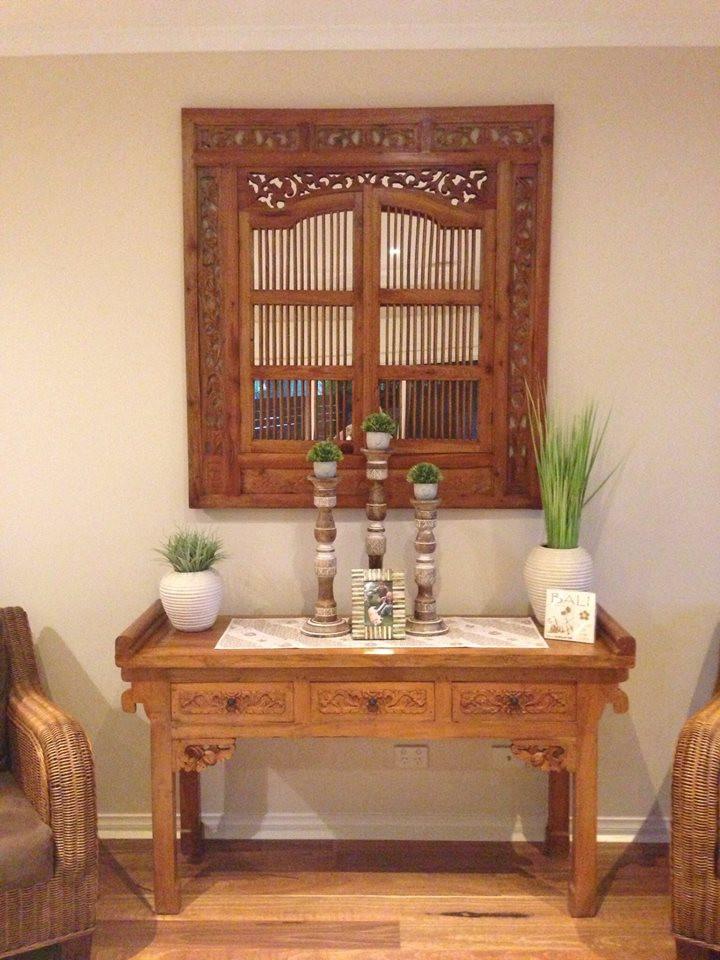 Our home is our castle! We take pride in having a home that is unique, different from your everyday house! Whilst we all have ideas to make our home a place of serenity and relaxation, turning these ideas into reality is sometimes not only daunting but can be costly. Spending up big may not necessarily be the answer, as wrongly matched or chosen décor can have an adverse effect on creating a space with personality. In this article, we'll help you with some ideas on choosing unique home décor ideas.
How To Begin Decorating Your Home
Choosing a colour palette is the foundation which most (but not all) of your home décor ideas are chosen. A common theme or palette becomes the base or blank canvas and a splash or "pop" of colour is what livens up your room. As an example of this, imagine a wall in a room, visible from almost every angle. A simple but unique wall art such as a Balinese hand carved wood panel suddenly creates a subtle focal point where "it's not just something on the wall", it's a work of art made with skill, love and passion which draws you in.
Unique Furniture Ideas
Quality furniture can sometimes be the most overlooked and expensive styling accessories. Natural timbers with rich grain gives us a sense of nature, being outdoors, fresh air and free! Carefully chosen high quality furniture can give a sense of nature being indoors creating serenity and relaxation.
Furniture made from selected quality materials such as Teak, Fruitwood or Suar are not only durable long term pieces of quality furniture, but also bring in years of nature's best to your room. A fruitwood console table in a hallway provides more storage space whilst creating a feature in an area most wouldn't consider. Add a matching art piece or Balinese lamp to the console creating a focal point in an otherwise boring space.
Living Room Decor
Living room furniture has evolved over the years. Smaller buffet and TV cabinets have taken over but although being smaller, designs have become smarter while still giving a high impact with sufficient storage. The Fruitwood L shaped TV entertainment unit is an example of this. Designed to be adaptable to any space, this unit can be set up at a full length of 240cm or 160cm if you have limited space. Either way, you won't lose this unit's character and charm. Another design feature allows this Fruitwood L shaped unit to be set up at right angles in a corner of a room. Add to this the need for a suitable coffee table.
Coffee Tables are endless in design from standard round, square, rectangle and tops such as glass polished timber and resin. Regardless of the design, it is important to match your coffee table so as it fits it your other furniture pieces in that room. For example, a white wash coffee table with a fruitwood TV cabinet would look grossly out of place. Keep the same theme while having each piece with it's own unique design.
Dining Room Decor
Dining areas are a place for gathering and sharing with family and friends. A dining table should be the focal point in the room, an inviting place to relax and share. A high quality dining table should be inviting and a place where you feel you don't want to leave. 
Depending on your needs, live or raw edge Suar tables are a great choice. Rich in natural timber grain, these tables are designed with a natural feeling of comfort and stunning design. Each piece is manufactured and produced from one single slab of kiln dried Suar wood. It's naturally raw edges give a classy finish that only nature can produce. These tables are available from 6 seaters through to the large 12 seater versions so, no matter what your requirements are, there's one to suit your needs. Complimenting these tables are the hi-back chairs. These are a matching addition to your live edge Suar Table.
If you have space limitations but still enjoy entertaining family and friends, the Fruitwood dining table is a great option. These are a simple but stunning design and are available in 6-10 seaters. The use of V shaped bench seats allows these to be compact when not in use while still having comfort seating. Another option chosen by many is to mix bench seats with high back chairs. This becomes a unique dining setting that is not only captivating to look at, but fully functional for everyday use.
Overall Home Décor
Whether you are looking for home décor in Melbourne or online homewares, the possibilities are endless. Let's be honest, most of our home decorating ideas and home accessories that create a unique home are found either online or out and about such as home décor Melbourne.
We at Bali Mystique pride ourselves on our wide range of high quality online homewares Australia. Each of our home accessories are handcrafted and unique providing decorating ideas that will compliment your home. Our unique home décor inspires you to have a unique home.
Home accessories can vary and is a very broad term. When choosing home décor or home accessories, aim to match this décor within each room so as to keep the theme consistent within each space. Using different online homewares in each room allows each room to have it's own personality. Be daring and allow each room to express its own personality while keeping the same theme moving room to room. The old saying "Same, same, but different" could not be further from the truth.
Let us know what you think. How have you styled your home to make it unique?
|
Posted on September 11 2019
4 comments
The nice home decor idea has been described in this article by showing the Australian houses.
https://wallcurtains.com/

This article describes the unique ideas for the home decor from which Australian houses have been made.