Creating a Tropical Oasis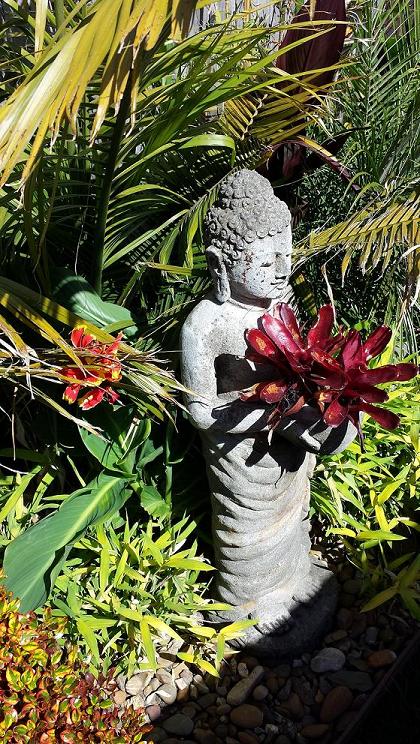 Unfortunately, creating a Tropical Garden doesn't happen overnight. To add to this, if you live in the colder climate of Australia, planning your garden is paramount. As the cliché goes "failing to plan, is planning to fail" rings so true in this instance! And let's be honest, no-one can afford to waste the time or money on plants and garden décor that wont work.
In this feature, with the help of our expert landscaper Daniel Charles from Tropical Backyards we hope to give you the basics to inspire you to achieve the tropical oasis you are after. 
Things to consider when planning you Tropical Garden:
Use of Water Features create a sense of relaxing lush surrounds.
Plant high plants with large foliage such as Banana trees at the rear of your garden to provide shade for the more sensitive smaller plants.
Choose plants with large colourful foliage. Colour is one of the most important features of a tropical garden.
Strategically place Garden Décor in and around the lush Foliage. Old, distressed statues work well looking like they've been part of the garden for years.
Ensure you design in a place to relax, somewhere to have your Day Bed or outdoor setting.
Build in a structure such as a Coconut Wood Bali Hut to create that shady relaxing area. These huts not only provide a shady place to relax but, are one of the key features in the tropics as seen in Daniels own back yard. 
Be sure to use Seasol weekly when planting new plants or transplanting or moving other plants or trees.
There are some great examples of transformations on Daniels website which is bound to inspire the desire for a tropical garden along with his guest appearance on the popular TV show "The Garden Gurus" and also the Home and Garden Magazine
 Another great place for tips and advice is on the Tropical Backyards FaceBook page. Here you can join the growing group of people sharing their tips on creating a tropical oasis!
 If you are wanting your area professionally landscaped, Contact Daniel direct on 0425881172
|
Posted on April 27 2018
2 comments
Hi Caroline, we would love for you to pop in and say hello. Also, certainly send us your photos showing progress :)

I have enjoyed looking at what you have for sale and will definitely visit your store when I am in Melbourne. We are creating a Balinese inspired garden and I'd love to share my work in progress.