Garden Decor Ideas: How To Decorate Your Backyard For Summer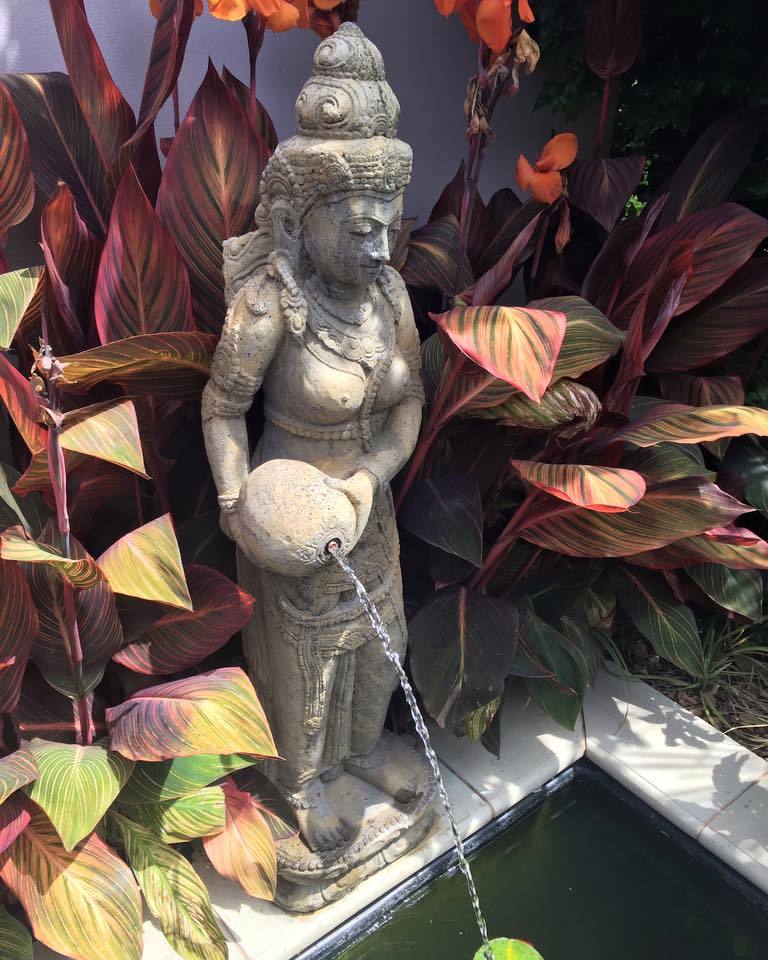 As summer approaches and the days get longer, being outside brings a sense of freedom and relaxation to our busy lives, a chance to unwind and recharge. We all love spending down time in a relaxing environment away from the everyday hustle and bustle. The longer, warmer days are also an inviting time to entertain outdoors with family and friends.
In this article, we'll help you with some ideas to create that "relaxing space" to enjoy and be proud of along with the best decorating ideas that become eye catching features without taking over everything else.
So, let's cover a few important outdoor areas and some outdoor décor ideas.
Finding Your Relaxing Space
The first and probably most important are the furnishings around your garden. Having a space to relax such as an outdoor daybed or outdoor couch invites and draws you in. Nothing says "unwind" like your favourite book and a glass of wine on a warm day. A secluded area with a swinging chair, day bed or a simple Rattan setting is the perfect getaway within your own space! You don't have to break the bank with your outdoor furnishings. There are some great options for affordable outdoor furniture pieces, which can instantly transform your backyard.
Entertaining In Your Backyard
We all love entertaining with close friends and family. Sharing a good meal gives us a sense of love and bonding. An area within your garden that allows you to "soak in" the view from every angle whilst enjoying the company of family and friends is the perfect place. This area should the centrepiece of your backyard where there is full view of the garden space.
Again, furnishing is important not only for looks but quality and comfort. An outdoor dining setting needs to be functional and so comfortable that, you feel the need to stay, enjoy the comfortable surrounds. Quality Rattan and wicker furniture is an ideal choice. Durable and comfortable, these make great dining and relaxing options.
Creating A Casual Setting
Let's be honest, who doesn't love sitting at a bar with friends reminiscing the past with a good wine or beer? High set outdoor tables or bars are becoming the trend more and more. They give us that casual "beer garden" feel, a relaxing session with friends without leaving your home. Whilst these bar tables and stools may not be as comfortable as a daybed, they do have a relaxing carefree feel. Furnishings in high quality materials will not only provide comfort but become a durable long term investment for your outdoor area.
Creating Shade In Your Backyard
We all know how harsh the summer sun can be. Providing spaces with filtered light and shade in certain areas plays a huge part in having comfort. Can you imagine having lunch outside in the full sun on a 35 degree day? There are numerous ways to provide shade from the harsh sun and we'll cover a few common backyard shade solutions.
The first and probably the most natural way is with foliage. Large palms and large lush green plants are a perfect way to provide shade. This is a long term solution, planning what plants and where they are planted in your garden needs to be given considerable thought. It's always best to seek advice from a landscaper who knows tropical plants for their advice.
Decorative garden décor such as a 6 foot outdoor umbrella is another versatile option allowing you to move "the shade" depending on the time of the day. These are ideal in adding the tropical look to your backyard while providing a very functional purpose. These come in various sizes, colours and designs, so it's not difficult to find one to suit your needs. These decorative umbrellas make great garden décor ideas.
Another option is an outdoor gazebo like our quality Bali Huts. These can be made from quality materials such as Bamboo or Coconut wood imported directly from Indonesia. Bali Huts bring that exotic feel to your garden like a resort in a sub-tropical continent. These Bali Huts are ideal for creating that permanent shade allowing you to have a relaxing space. Various Bali Hut options are available in Melbourne and can be transported to New South Wales (NSW) Queensland (QLD) and South Australia (SA).
Best Garden Décor Ideas
When it comes to Garden décor, garden statues and garden ornaments, the choice is never ending. However, there are some garden décor pieces for sale which are more suited to the backyard environment depending on your needs.
Terracotta garden décor has been around for a very long time however, good quality terracotta garden décor or garden statues can be limited due to the clays used. Also, terracotta can be somewhat fragile unable to withstand much impact. Terracotta and kids kicking the footy or soccer ball in the yard can result in damaged outdoor décor.
Concrete is another option available. Garden ornaments made from cast concrete are durable and can be intricate in design. Coatings or paint has come a long way over the years and now you are able to purchase garden décor or ornaments made from concrete which are some of the best outdoor quality products. These ornaments such as a standing Buddha can be quite heavy which can pose an issue if they are being placed in a difficult location.
Another alternative is a product called Cement Fibre or GRC. Garden statues or ornaments made from GRC are relatively lightweight and easy to move. Most will come with a quality painted finish which makes GRC a great outdoor décor or garden décor option.
Finally, there are some garden ornaments which are hand carved from stone. If you have ever been to Indonesia or Bali in particular, you would have seen these in almost every location. There are several stone options such as Limestone, Breskie stone, Paliminan stone and the most popular, Green Stone. If you are after authentic outdoor décor which not only looks the part but is made from durable quality stone materials, these garden statues and ornaments are the choice. They are naturally exotic looking with hand carved detail which is hard to match with other products. Another great feature with stone is that they "age" well in your backyard. After a short period of time, these garden statues will look like they have been in your garden forever!
Garden Statue & Ornament Ideas
We have seen and have access to literally hundreds of designs for these garden statues. Here are some of the most popular ones for sale in Melbourne which we freight to other states.
     

Lady Tara praying statue

     

Lady Tara with bowl

     

Temple dogs

     

Temple soldiers

     

Dragons

     

Abstract loving couple
Another great outdoor decor idea is a water feature or water fountain. These have a significant impact not only on the look of your backyard, but also provide a relaxing serene sound to help clear the mind and take you to a place beyond your backyard. These water features come in various styles and designs from the traditional Buddha style to more modern abstract type water features. Regardless of what space you have, there is sure to be a design that will suit your needs.
|
Posted on September 18 2019
4 comments