Live Edge furniture and Dining Tables brings nature indoors!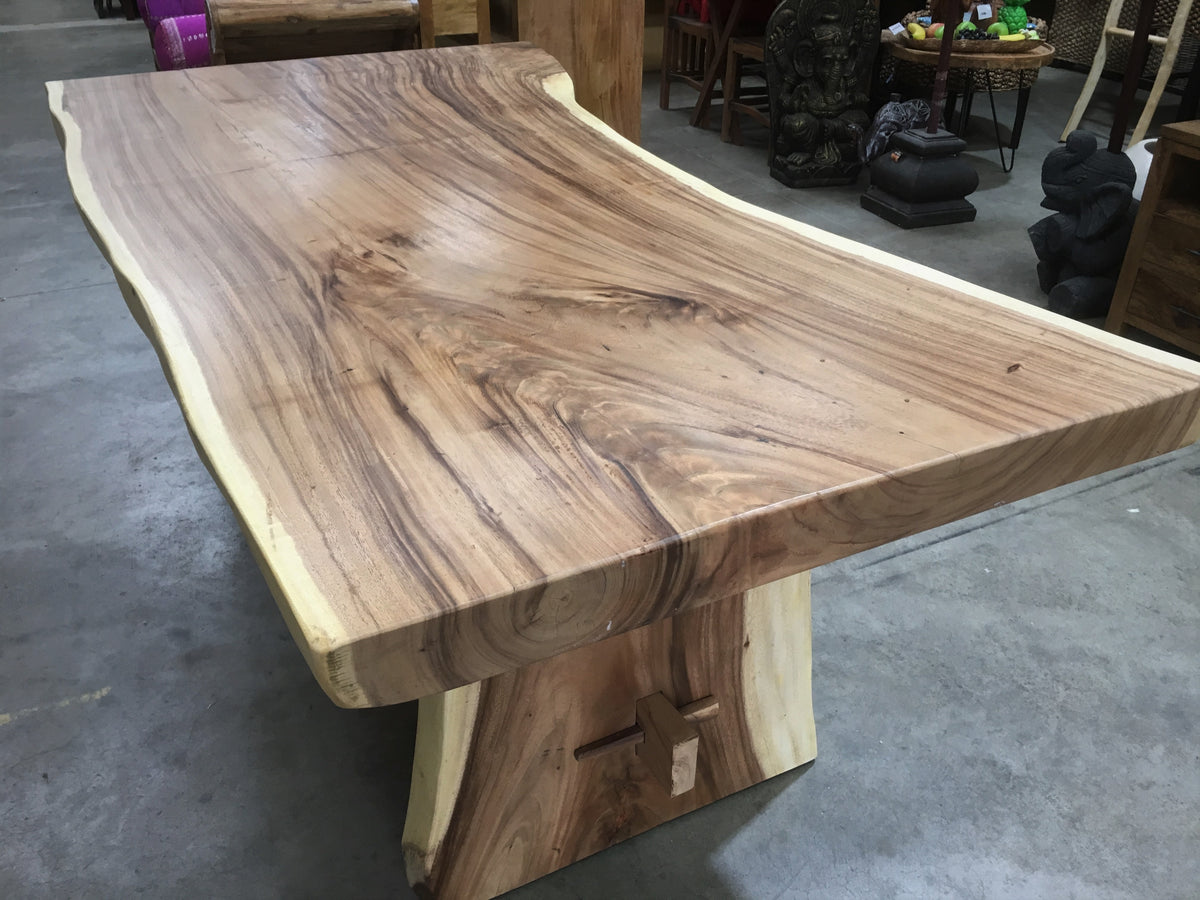 Live Edge Dining tables Melboune
Ever wondered why less is sometimes more when it comes to live edge wood slab furniture?
So, let's first look at what is the term "Live edge" or sometimes referred to as "River Tables" or furniture.
Most timber mills will generally process logs or trees in a "Lumber" format as the photo below. This maximises the production from each log minimising waste and at the same time providing timber at various sizes. Whilst this is the most cost effective process, the raw or live edges are discarded and generally used as woodchips.
Timber mills that specifically process logs in "Slabs" cater for manufactures of Live edge tables, coffee tables and other furniture as shown below. Again, waste is limited but the range of various sizes are minimal.
The term "Live Edge" makes reference to the edges of the furniture. These are left in an almost raw state allowing years of natural beauty to be incorporated into the furniture. A slab dining table live edge shows natural features only nature can provide over time. This is what makes for example a live edge console table or live edge coffee table a furniture piece to stare at!
Edge living furniture is unique, simple in design and the old saying "less is more" rings true with Live edge dining tables.
There are several leg options for live edge furniture which wont "out do" the main feature of the top itself. "U" shaped legs are a good option, reasonably priced and when painted in black, they become a subtle extension of the live edge slab without taking away any of the focus. Metal legs are another option which can bring a contemporary look to a live edge dining room table. These can be manufactured in numerous styles and designs.
However, if you want to add and further enhance the look of your live edge dining table, you can't look past
live edge table legs design
. This leg design will not only compliment the live edge table but provide a continuous flow of raw edges combined with a natural grain matching your live edge kitchen table.
We have sourced several quality suppliers to provide these live edge dining tables to Melbourne and now have the ability to ship these to major cities across Australia. So if you are wanting to bring nature indoors with a hand crafted Live edge dining table and chairs, Speak to us about our range or we can source custom sizes as required.
We also supply live edge hall tables, live edge slab dining tables and live edge coffee tables for sale with all the customer care you will need!
|
Posted on April 11 2019